Holiday Class: Learn 3D printing (3 part class)
 11-13 July 2017, 9am-12pm
Ages 12 and up.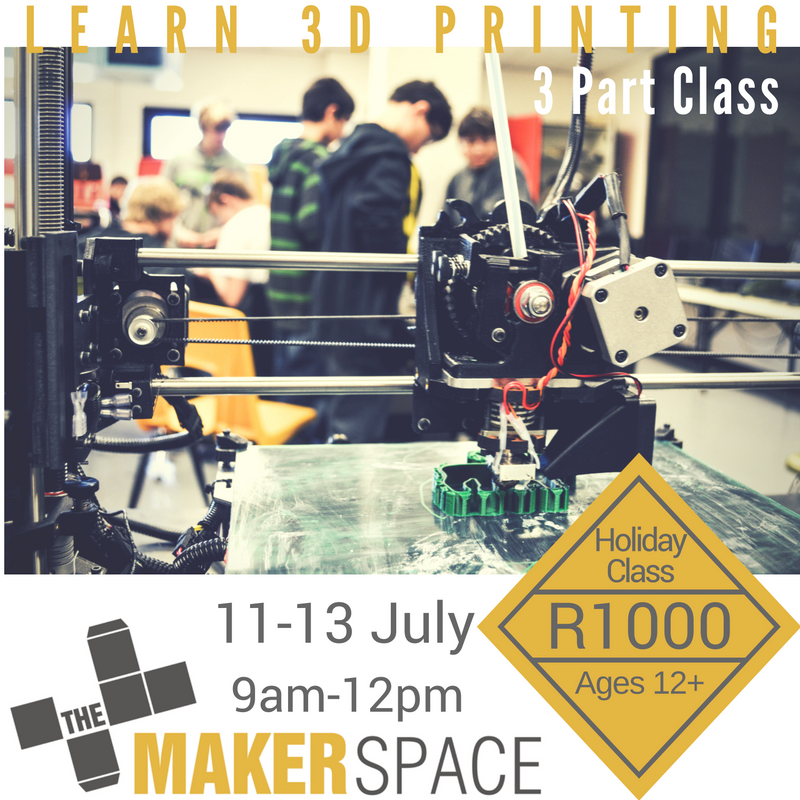 Day 1:
– Explore 3D printing and it's uses.
– 3D scan and edit your own head.
– We will 3D print your head.
Day 2:
– Use methods to alter the shape of your 3D scanned head.
– Finding and downloading 3D object from the internet
– Intro to 3D design in Sketchup.
– We will help you 3D print your chosen object.
Day 3:
– Setup the software for 3D printing yourself.
– Understand the variables when 3D printing.
– Setup the printer yourself.
– You will 3D print an object of your choosing.
We will provide all materials and equipment needed to print.
You need to bring a laptop with Cura downloaded and installed.
Once you have made your booking you will receive an email with payment options. If you do not receive this email please check your spam box, if you still do not receive an email please email cari@themakerspace.co.za.
Date/Time
Date(s) - 11/07/17 - 13/07/17
9:00 am - 12:00 pm
Categories
Bookings
Bookings are closed for this event.