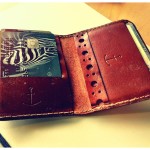 Open your wallet, it's time to make – with style.
---
Join theMakerSpace and Savior Brand Co for this special leather craft course
---
Join us on thursday 26th of Sept, 7pm
Max and the Leather guru's from 
Savior Brand Co.
 will be working with us on their most popular product: the slimline leather wallet. It retails for R300 and you get it for free as part of the course.
This has been our most anticipated class, and it will inevitably sell out soon after this email has been sent out, so you may not want to delay.
THE LOW DOWN:
About Savior Brand Co:
Born out of a love of doing things the old fashioned way. In our instant culture of 5 minute ab workouts, 2min noodles and the 1 minute manager it's refreshing to find a business that focuses on crafting things that take time. Savior Brand wanted to create an environment where good design, superior quality and pride in your work actually matter. For them, workmanship is critical and every tiny stitch detail and pattern is pored over with meticulous care. Products are hand-stitched, the old fashioned way. They make things that they love, and steve I bet you will love them too. They make things to last, just like the old days.
They are passionate about helping young adults re-discover and fulfil their dreams & to help them change their life circumstance along the way – a significant portion of our profits feed into their 
SMLV+18 program
..
VENUE AND PARKING:
The facebook event will be listed as "Umhlali Preparitory school" because it should pick up on everyones GPS, but its actually across the road from the school at the isigns/impressive signs offices (see attached link)
---
The course costs R300 and includes the wallet you make.
SECURE YOUR SPOT EARLY:
EFT R150 deposit
FNB Cheque
62116237183
branch no 250655
ref:Wallet<yourName>
---
Make something soon,